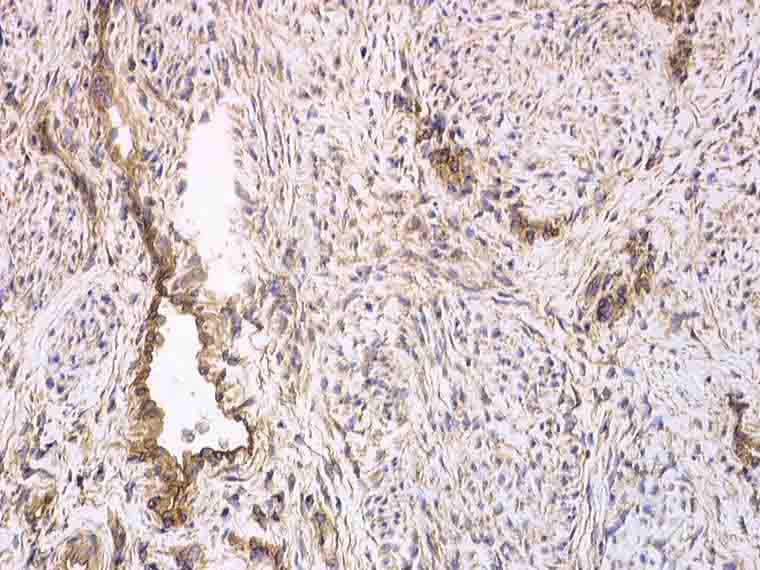 "Binding of V9 monoclonal antibodies to human vimentin"


Hybridoma Clone Antibody Isotype Cat. No.
V9 Mouse IgG1 ARA26

Source
A mouse was immunized with vimentin isolated from cow lens. Antibody-producing cells were isolated after fusing the spleen cells of the mouse with murine myeloma cells by selecting the cells that produced antibodies capable of staining mesenchymal cells in thin sections of human colon.

Specification:
The antibody does stain all cells that contain vimentin. Only frozen section can be used. The antibody only stains the 57kDa vimentin band in immunoblots performed on a lysate of human lymphocytes.


Immunohistochemistry (frozen sections)
yes
Immunohistochemistry (formalin embedded tissue)
no
Immunohistochemistry (antigen retieval)
yes
Flow cytometry
yes
Immunoblotting
yes
ELISA
not tested
RIA
not tested
Cross reactivity:
Neurofilament
not detected
Glial fibrillar acidic protein
not detected
Desmin
not detected
Cytokeratin
not detected
Mouse vimentin
not tested
Rat vimentin
not tested
Rabbit vimentin
not tested
Goat vimentin
not tested


        Immunoglobulin (sub)class:  IgG1

        Presentation:  supernatant or protein A purified

        Storage:
        4°C = 2 months
        -20°C = 1 year
        Aliquoted storage at -70°C or –20°C is recommended

        Reference:
        1. Muijen GNP van (1984) Am J Pathol 116, 363-369.
        2. Muijen GNP van (1985) Hum Pathol 16, 590-595.
        3. Muijen GNP van (1987) Lab Invest 57, 359-369.
        4. Debus E et al. (1984) Eur J Cell Biol 34, 137-143.
        5. Muijen G van (1986) Exp Cell Res 162; 97-113
        6. Corver WE et al. (1994) Cytometry 15, 117-128
        7. Broek JCM van den et al. Appl Immunohis & Mol Morphology 8, 316-321, 2000


Ordering Information