Anti-human blood vessel endothelium (clone PAL-E (VC 3))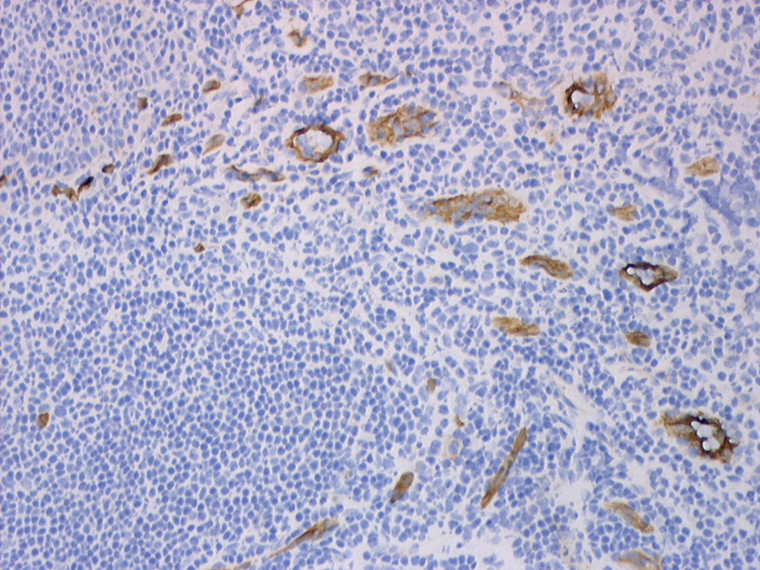 "Binding of VC3/PAL-E monoclonal antibodies to human blood vessel endothelium"


Hybridoma Clone Antibody Isotype Cat. No.
VC3/PAL-E Mouse IgG2a ARA39

Source
A mouse was immunized with human melanoma tissue. After fusing the spleen cells from this mouse with myeloma cells, antibody-producing cells were screened on thin sections of various human tissues. A clone was identified that produced antibodies reacting with the endothelium of blood vessels.

Specification:
The antibody does stain human and various animal blood vessels with the exception of arteries.


Immunohistochemistry (frozen sections)
yes
Immunohistochemistry (formalin embedded tissue)
no
Immunohistochemistry (antigen retrieval)
no
Flow cytometry
no
Immunoblotting
not tested
ELISA
not tested
RIA
not tested
Cross reactivity:
Lymphatic endothelium
not detectable
Sinus histiocytes
not detectable
Megakaryocytes
not detectable
Mouse endothelium
no
Rat endothelium
no
Rabbit endothelium
yes
Goat endothelium
yes


        Immunoglobulin (sub)class: IgG2a

        Presentation: supernatant 

        Storage:
        4°C = 2 months
        -20°C = 1 year
        Aliquoted storage at -70°C or –20°C is recommended

        Reference:
        1. Schlingerman et al. (1987) Lab Invest 52, 71.

Ordering Information