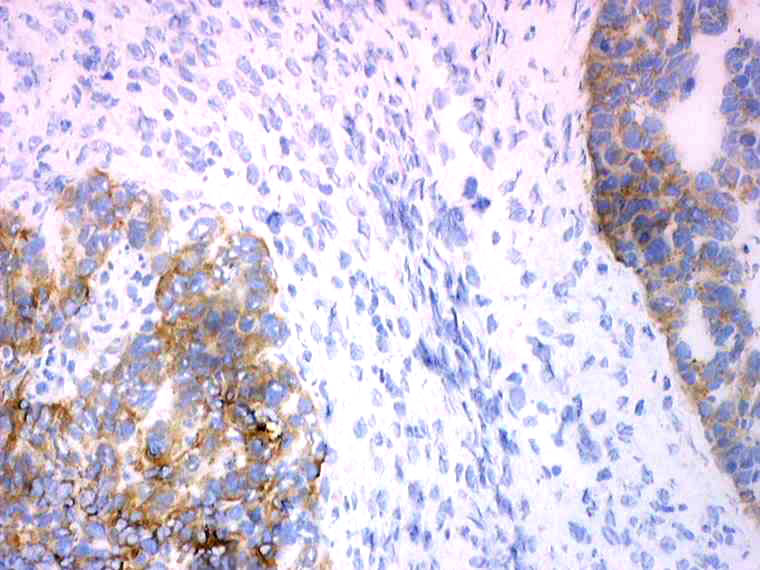 "Binding of OV632 monoclonal antibodies to human ovarian carcinoma"

Hybridoma Clone Antibody Isotype Cat. No.
OV632 Mouse IgG2b ARA37

Source
A BALB/c mouse was immunized with cyst fluid of a human serous cystadenocarcinoma of the ovary. After fusing the spleen cells from this mouse with murine myeloma cells, antibody-producing cells were screened on thin sections of various human tissues. A clone was identified that produced antibodies staining ovarian carcinomas.

Specification:
The antibody stains 80% of non-mucinous primary and metastatic ovarian cancers. This monoclonal antibody is used for the identification of primary and metastatic non-mucinous ovarian carcinoma and ovarian carcinoma cells in peritoneal fluids. It rarely stains nongynaecological malignancies.


Immunohistochemistry (frozen sections)
yes
Immunohistochemistry (formalin embedded tissue)
no
Immunohistochemistry (antigen retrieval)
no
Flow cytometry
yes
Immunoblotting
no
ELISA
not tested
RIA
not tested
Cross reactivity:
Breast carcinomas
not detectable
Colon carcinomas
not detectable
Other non-gynecological malignancies
incidentally present
Other gynecological adenocarcinomas
present
Mesothelial cells
not detectable
Mouse ovarian tumors
not tested
Rat ovarian tumors
not tested
Rabbit ovarian tumors
not tested
Goat ovarian tumors
not tested

        Immunoglobulin (sub)class: IgG2b

        Presentation: supernatant or protein A purified

        Storage:
        4°C = 2 months
        -20°C = 1 year
        Aliquoted storage at -70°C or –20°C is recommended

        Reference:        1. Fleuren GJ et al. (1987) Virchows Archiv A, 410, 481-486.   
        2. Boerman OC et al. (1991) Int J Gynecol 10, 15-23.
        3. Delahye H et al., (1991) J Pathol 165 137-143.
        4. Boerman OC et al. (1991) Anticancer Res 10, 1289-1296.
        5. Corver WE (1995) Cytometry 19, 267-272.

Ordering Information