Monoclonal antibodies directed against rat CD8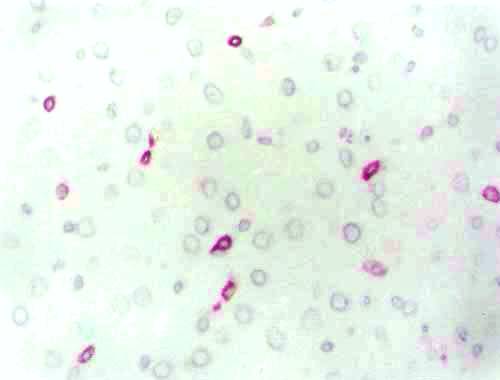 "Binding of OX8 (IgG2a) monoclonal antibodies to CD8-positive
T cells or NK cells in freshly frozen rat liver tissue"


Hybridoma Clone Antibody Isotype Cat. No.
| | | |
| --- | --- | --- |
| OX8-2a | Mouse IgG2a | ARA03 |
| OX8-2b | Mouse IgG2b | ARA04 |
Generation
These two monoclonal antibodies are IgG2a and IgG2b isotype switch variants (Kuppen et al., 1993) of the well-known OX8 IgG1 antibody that is specific for rat CD8 (Brideau et al., 1980).
Reactivity
Both monoclonal antibodies bind to a rat strain-independent epitope of the a-chain of CD8, present on the CD8-positive subsets of T cells and NK cells.
Technical information
The OX8 switch variants are useful in flow cytometric analysis of rat lymphocytes, especially in multicolor stainings. The OX8 switch variants can also be used in immunohistochemistry, both on fresh frozen tissue and formalin-fixed/paraffin-embedded tissue. Citric acid pretreatment is recommended for formalin-fixed/paraffin-embedded tissue sections.
References
1. Kuppen PJ, Eggermont AM, Smits KM, Van Eendenburg JD, Lazeroms SP, Van De Velde CJ, Fleuren GJ (1993) The development and purification of a bispecific antibody for lymphokine- activated killer cell targeting against the rat colon carcinoma CC531. Cancer Immunol Immunother 36: 403-408
2. Brideau RJ, Carter PB, McMaster WR, Mason DW, Williams AF (1980) Two subsets of rat T lymphocytes defined with monoclonal antibodies. Eur J Immunol 10: 609-615.
Ordering Information